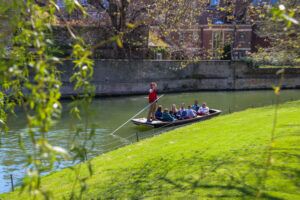 Whether you are coming to Cambridge for the day, weekend or you're a local looking for something a bit different to do, this list has you covered. Cambridge is a bustling city that welcomes thousands of tourists weekly, it is estimated that the city sees around 8 million visitors a year.
There are an abundance of reasons as to why Cambridge is so popular, its rich cultural and educational history being the forefront of why we receive so many visitors each year. There are plenty of other reasons as to why Cambridge should be the next city trip you should take. Keep reading for a list of unique things to do in Cambridge.
Punting
Arguably Punting is as equally as famous as the University, the two seem to exist in a complimentary symbiosis. Punting in Cambridge is a year round activity, but is especially popular during the summer months. We offer both Private and Shared punting tours, each lasting for 50 minutes. During your tour you will be guided down the historical college backs, basking (hopefully) in sunshine. You are welcome to bring your own food and drinks on board, but if you would like us to supply any prosecco or champagne please ask as we will be able to add drinks onto your tour.
Paus
We are coming into the summer months, so this blog is definitely following an outdoor theme. Paus, situated on the outskirts of the city, is a place where you can relax, unwind and put your feet up. Here you will find ten cedar hot tubs, a sauna, and a cold plunge pool. As well as an emphasis on health and wellness, Paus offers a delicious homecooked seasonal menu that highlights local produce.
Cambridge Rowing Experience
Nothing quite says Cambridge like a boat on the river! As funny as that statement may be, its true. Think of postcards of Cambridge with pictures of punting, and the infamous boat race that happens annually in March against Oxford. Boathouses, Canal Boats and Punts all line the River Cam. Newly introduced to the city is Cambridge Rowing Experience, a fully immersive day allowing you to try the famous university sport, without having to commit to a club. You will be taken through the training regime both on land and on the water and you will get the chance to row in a coxed 'eight' boat.
Jesus Green Lido
Originally designed to mimic the nearby river, the Lido on Jesus Green is one of the last remaining long length pools built during the 1920s. Situated a 3 minute walk from our landing stage, the lido is the perfect place to cool down during the hot summer months.
Who doesn't love the pub, right? It's inherently British. What better way to wash down the day then by having a pint in the pub where the discovery of DNA was announced. Talk about unique things to do in Cambridge!